November 29th, 2014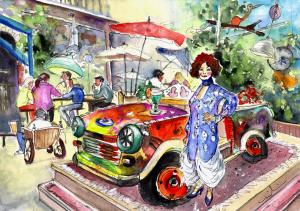 I have recently returned (last week of October 2014) from a painting trip to Budapest, and have made already some blog posts about motifs from Budapest, such as beautiful houses, churches, etc. Today I want to show you the most famous "ruin bar" from Budapest.

"... Ruin bars are all the rage in Budapest and have been around for 10 years since the founding of Szimpla Kert, the mecca of all ruin bars. These bars are built in Budapest's old District VII neighborhood (the old Jewish quarter) in the ruins of abandoned buildings, stores, or lots. This neighborhood was left to decay after World War II, so it was a perfect place to develop an underground bar scene. (Not so underground anymore, though.) From outside, these bars look like normal homes... "

These words are taken from the site Nomadic Matt. As I went to Budapest, I knew nothing about the ruin bars, and I heard from their existence just searching for something else on the net. Unfortunately I had no time left then to visit them at night, I had only one day left and had already planned to visit the Jewish quarter that day. So I visited the most famous of the these bars, "Szimpla Kert" in the morning but unfortunately, there was hardly anybody in there. I will have to go back there one day!

Anyway, I had at least peace to sketch some of the amazing motifs and crazy decoration. And as I came back home, I had the idea to put inside this bar some famous female characters from famous artists.

See and read more about the famous girls in the ruin bars from Budapest in my main blog.