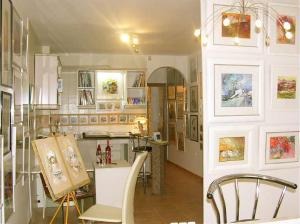 So, it's done, we have officially launched my new gallery, inaugurating it with the visit of Jackie, a nice English lady living round the corner. She had noticed big activity in the last 2 weeks and wanted to see the gallery before she flew back to England, today.

Kevin hung the last few paintings, swept the floor and put out some cool Vino Rosado (the favourite English tipple in Spain)

She had a great look all around, even admiring my bullfight paintings although she does not like the bullfight itself, and was not scared to face with a big smile a herd of wild bulls running towards her...

Jackie stood a long time with us, We had an interesting conversation about my art and many other themes.

We found that in fact it was the best way to present this new gallery to the public, making personal invitations and spending one-on-one time to get to know each other. We all really appreciate the time spent together yesterday.

Jackie was especially attracted to my Fantascapes and Eroscapes, and kept going back to them. Finally she even decided to buy one, and we sealed the sale with an happy "Cheers!".

I will tell you in my next post which Eroscape she bought as I have a touching story to tell you about it.