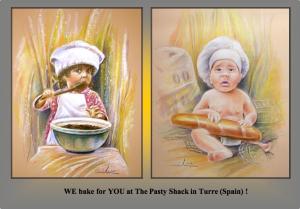 Between the last of the work on the new gallery, I did two new paintings last week, especially for our local bakery, "The Pasty Shack", where I have already hung some of my Coffee Cups Art 2 weeks ago. I wanted a funny theme connected with bread and pastry, but at the same time it should be a kind of advertising for my portraits. I had a look through the internet and found some delicious Black&White photos of Babies and Children Cooks, the ideal theme. I drew them, added some colors, and here they are:

Sorry, something went wrong with the photos, they are not quite well realized, and I can't redo them now as my Baby Bakers already hang there close to my Coffee Cups.

Now, I don't now how it is with the copyrights in this case. I don't know if I have the right to sell them, having used the photos to make the paintings. I guess exhibiting is not a problem - but selling? I have decided not to sell them, at least for the moment, until I know better. So people, if you are the authors of these great photos or you are a lawyer/artist knowing about this kind of thing, and find this post here, please contact me and tell me my rights!

PS: Sorry for the title... my boyfriend, an English Rock Musician with very sensitive ears, means that it sounds a little bit rude... but I could not resist. it is so appropriate!