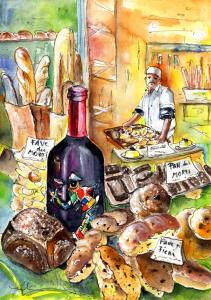 I have just come back (October 2014) from a painting trip to Bergamo, a beautiful town in Lombardy in Italy. In fact I was on my way to Budapest, but made a longer break there to visit and paint the town.

Bergamo is divided into two parts, the lower and the upper town. I have recently published paintings from the lower town, today we'll go up to the "Citta Alta".

I guess most artists, when they are Italy, paint the amazing Italian buildings and monuments. I do it too sometimes, but they are not my favourite subject. I enjoy more painting still lives, inspired by shop windows, restaurants, cafe decorations, etc... I said it often, they are a feast for my eyes and all my other senses too.

See and read more about the feast in Bergamo in my main blog.